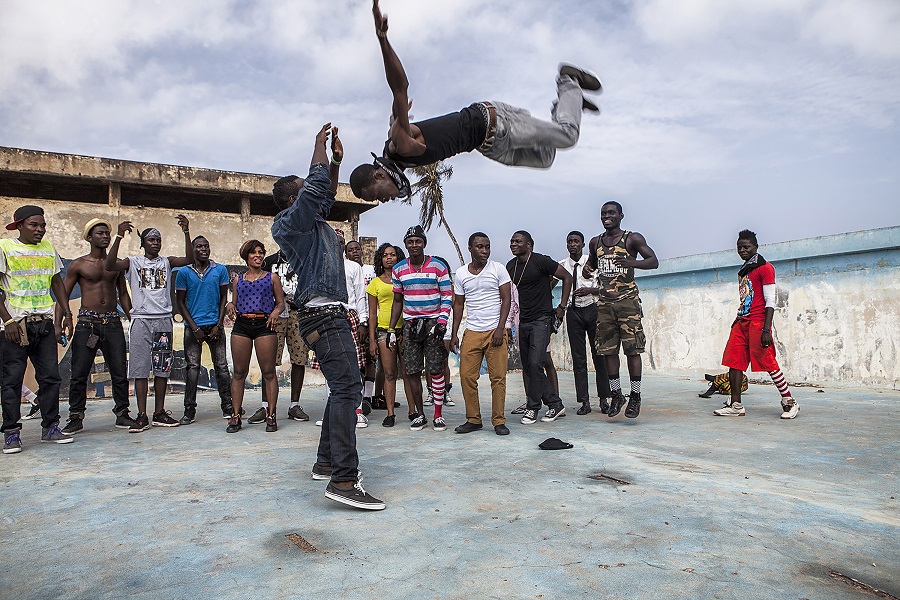 Adama Delphine Fawundu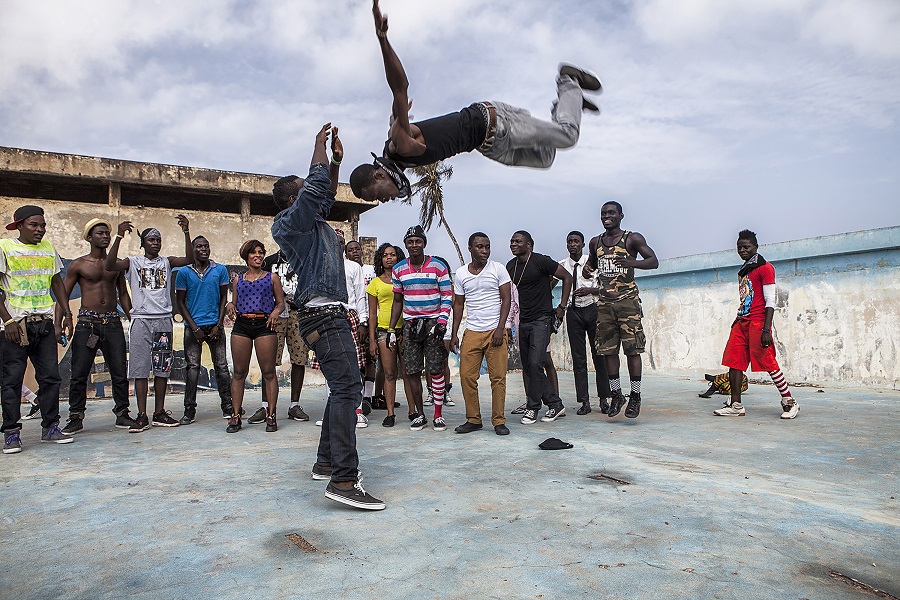 As a first-generation American born in the U.S. to parents from Sierra Leone and Equatorial Guinea, I am a product of cultural hybridity. My art investigates how traits of indigenous African cultures such as Mende and Bubi (my ethnic heritage) have transformed and shape-shifted within the African diaspora.
When I began my photography career in 1993, New York City hip-hop was where I pointed my lens. I knew that this golden era of hip-hop was important. Understanding the power of my focus, I documented every moment that I could.
In 2006, I became aware of a hip-hop scene growing in Accra, Ghana. My love for the culture and curiosity of what I call a spiritual cipher made me want to investigate. I say spiritual cipher, as I think of hip-hop as a symbolic shape-shifter, using coded language and syncopated rhythms rooted in West African cultures, such as Mende. Magical is how hip-hop travels back home in a new way, coded for receiving ears who become inspired to create something fresh.
In 2008, I began a ten-year journey of documenting hip-hop, Afro-Pop, and urban youth culture in Accra (Ghana), Bamako (Mali), Dakar (Senegal), Addis Ababa (Ethiopia), Johannesburg (South Africa), Nairobi (Kenya), Freetown (Sierra Leone), and Lagos (Nigeria). No Wahala, It's All Good: A Spiritual Cypher within the Hip-Hop Diaspora is a representation of this cultural connection between Africa and its diaspora.
Artist Bios
Adama Delphine Fawundu is a photographer and visual artist born in Brooklyn, NY to parents from Sierra Leone and Equatorial Guinea, West Africa. She received her Master of Fine Arts from Columbia University School of the Arts.

Ms. Fawundu has been documenting global hip-hop and urban youth culture for over twenty years. Her art re-imagines and glorifies the strength of African and Black diaspora culture and identities that continue to evolve, despite the social violence of the Transatlantic Slave Trade and colonialism.

Ms. Fawundu is a co-founder and author of the book and movement, MFON: Women Photographers of the African Diaspora. She is currently an artist-in-resident at the Center for Book Arts in New York City. Her awards include the Rema Hort Mann Emerging Artist Award, a New York Foundation for the Arts Photography Grant, and the Brooklyn Arts Council Grant.

Ms. Fawundu's works can be found in the collections of the Brooklyn Museum, the Brooklyn Historical Society, the Norton Museum of Art, Corridor Art Gallery, Museum of Contemporary Art at the University of São Paulo, Brazil, and David C. Driskell Center for the Study of Visual Culture of African Americans and the African Diaspora, University of Maryland.
Organizations
United Photo Industries (UPI) is a New York based nonprofit organization that works to promote a wider understanding of, and increased access to, the art of photography.

Since its founding in 2011, UPI has rapidly solidified its position in the public art landscape by continuing to showcase thought-provoking, challenging, and exceptional photography from across the globe. In its first seven years, UPI has presented the work of more than 2,500 visual artists in gallery exhibitions and public art installations worldwide.