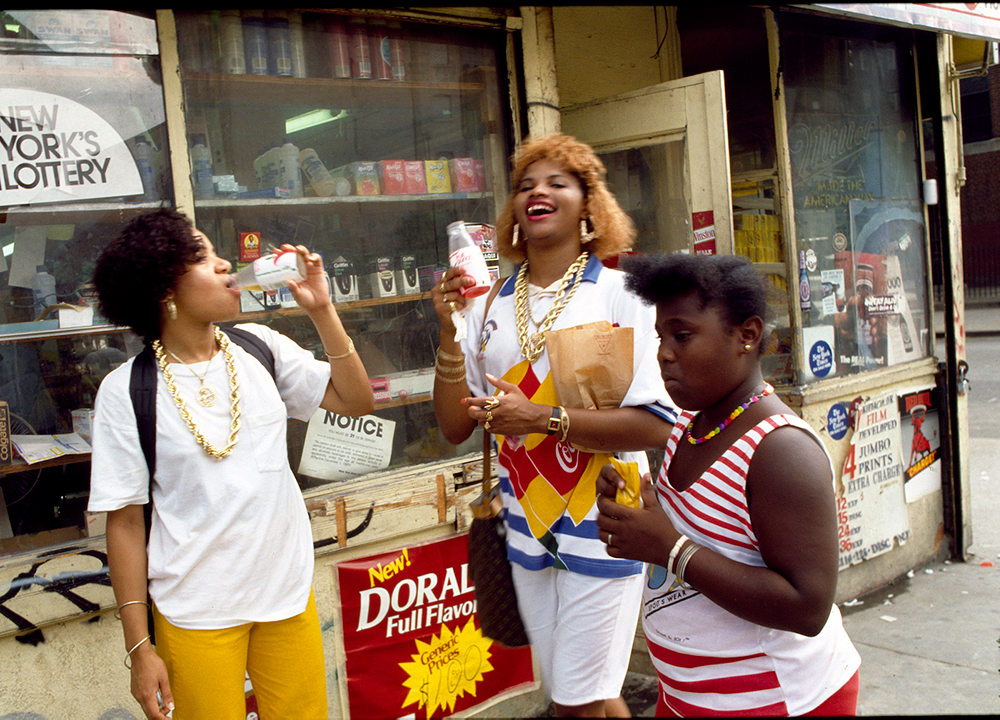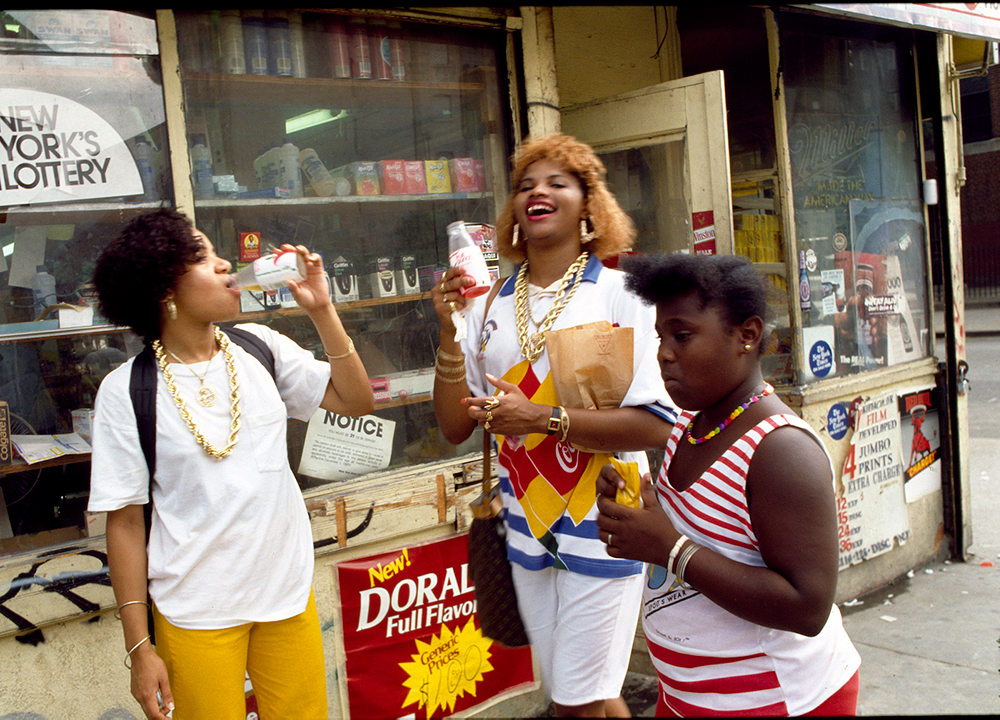 In 1982 I was covering London's thriving music scene for Melody Maker when I was assigned to document the first ever hip hop show to come to the UK : "New York City Rap ". Before the show I went to their hotel to take some portraits. GrandMixer DST, Afrika Bambaataa, Rammellzee, Fab 5 Freddy, Rock Steady Crew, Double Dutch Girls, Dondi and Futura 2000 posed for me wearing Kangols, sheepskins, tracksuits and fly sneakers. I had no idea who they were but I was blown away by the new style, sound and cultural explosion coming out of NYC.
Arriving in New York a few months later, I embarked on what became my photography journey through the golden age of hip-hop. Most of the musicians I photographed were not celebrities, they were fresh, creative, at the start of their careers and we somehow trusted each other to collaborate.
I photographed Salt-n-Pepa on the Lower East Side before they had a record contract, Run DMC on their street in Hollis, Queens, Stetsasonic in East New York, EPMD posing with their cars in Babylon Long Island. I was trying to capture a sense of who these artists are and what they mean to the neighborhoods they come from, cars, boom boxes, tagged walls, bodegas, all helping to give a sense of place and time. This year celebrates Hip Hop's 50th anniversary, we had no idea it would become a global phenomenon.
Artist Bios
Janette Beckman is a British-born photographer who now lives and works in New York. She began her career at the dawn of punk rock working for music magazines The Face and Melody Maker. She shot bands from The Clash to Boy George as well as three Police album covers.

Moving to NYC in 1983 she was drawn to the underground hip-hop scene and photographed pioneers such as Run DMC, Slick Rick, Salt'n'Pepa, Grand Master Flash and LL Cool J. Beckman has published five books: "Rap, Portraits & Lyrics of a Generation of Black Rockers," "Made In The UK The Music of Attitude 1977-1983," "The Breaks, Stylin' and Profilin' 1982- 1990," "El Hoyo Maravilla" and "The MashUp: Hip Hop Photos Remixed by Iconic Graffiti Artists."

Her work has been shown in galleries worldwide and is in the permanent collections of the Smithsonian National Museum of African American History and Culture, the Museum of the City of New York and the Musée des Civilisations de l'Europe. She is represented by the Fahey Klein Gallery.

Beckman continues to chronicle sub-cultures of our generation as well as work on shoots for clients such as Levi's, Dior and Apple.
Organizations
The Seaport is New York City's original neighborhood, a maritime hub of history, culture, entertainment, and dining, located along the East River in Lower Manhattan. The neighborhood celebrates emerging and resident artists, local organizations, and community connectivity through its curated events & activations, including its public art program, Seaport Arts.

Founded in 2011 in Brooklyn, NY, Photoville was built on the principles of addressing cultural equity and inclusion, which we are always striving for, by ensuring that the artists we exhibit are diverse in gender, class, and race.

In pursuit of its mission, Photoville produces an annual, city-wide open air photography festival in New York City, a wide range of free educational community initiatives, and a nationwide program of public art exhibitions.

By activating public spaces, amplifying visual storytellers, and creating unique and highly innovative exhibition and programming environments, we join the cause of nurturing a new lens of representation.

Through creative partnerships with festivals, city agencies, and other nonprofit organizations, Photoville offers visual storytellers, educators, and students financial support, mentorship, and promotional & production resources, on a range of exhibition opportunities.

For more information about Photoville visit, www.photoville.com