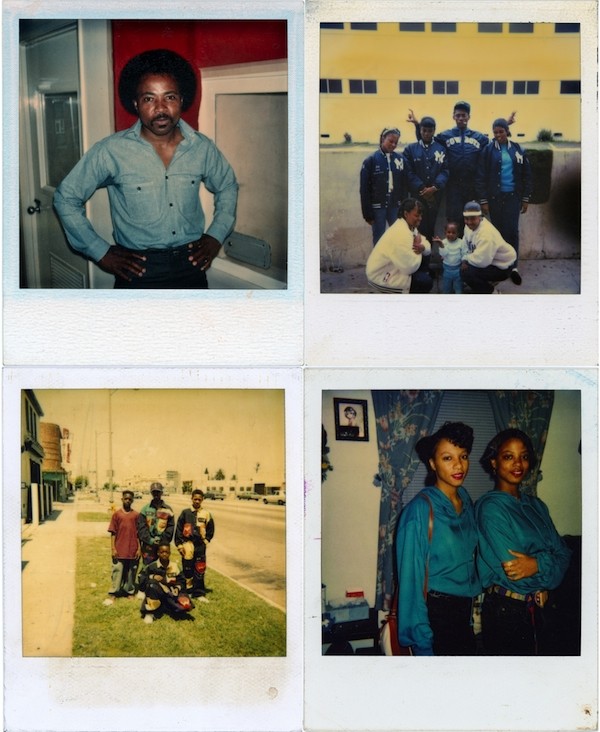 Fade Resistance is an archival project that seeks to restore the narrative impact of thousands of found African American vernacular Polaroid photographs. The images exhibit richness and complexity of life that fills a representational gap in the history of American snapshot photography.
The ability to make instant hard copy snapshots was alluring. Everyday life moments could be captured, viewed and shared without delay or interference. Even though there was often a performance aspect to making Polaroids, the daily life scenes reflect the way Black people saw themselves on their terms and in ways not intended to be seen, or judged, by others.
Fade Resistance is a reminder that there is a vivid recent history of Black visual self-representation. My hope is that this archive offers a contemporary counter-narrative to mainstream distortion and erasure. By showing how black families documented themselves throughout recent decades, I aim to spark meaningful conversation regarding issues of agency and empowerment in the depiction of African Americans.
Artist Bios
Zun Lee is a Toronto-based visual storyteller. His work has been featured in The New York Times, Slate, TIME Lightbox, Huffington Post, MSNBC, Washington Post, and Hyperallergic.

Lee has made a name for himself as a visual storyteller of quotidian African American life. For his award-winning project Father Figure, Lee put the topic of black father absence stereotypes into the wider context of criminalization of black masculinity. Lee also worked in Ferguson in the fall of 2014, where he engaged the local community to provide a more nuanced narrative of resistance than is often depicted.

Lee has shown his work in solo and group exhibits in New York City, Washington DC, Toronto, Paris, Perpignan, Orlando and Los Angeles. He has spoken publicly at New York University, Nathan Cummings Foundation, University of Chicago, Photoville, CBC Radio One's Q Show, Ryerson University, University of Toronto, Annenberg Space for Photography, University of North Carolina at Chapel Hill, and Recyclart Art Center Brussels.

Selected honors include: Photo District News Photo Annual Winner, Photo Books (2015), LOOK3 Educator (2015), Aperture Photo Book Awards Shortlist (2014), TD Then and Now Grantee (2014), LOOKbetween Participant (2014), Photo District News' 30 New and Emerging Photographers to Watch (2014).
Organizations
United Photo Industries (UPI) is a New York based nonprofit organization that works to promote a wider understanding of, and increased access to, the art of photography.

Since its founding in 2011, UPI has rapidly solidified its position in the public art landscape by continuing to showcase thought-provoking, challenging, and exceptional photography from across the globe. In its first seven years, UPI has presented the work of more than 2,500 visual artists in gallery exhibitions and public art installations worldwide.