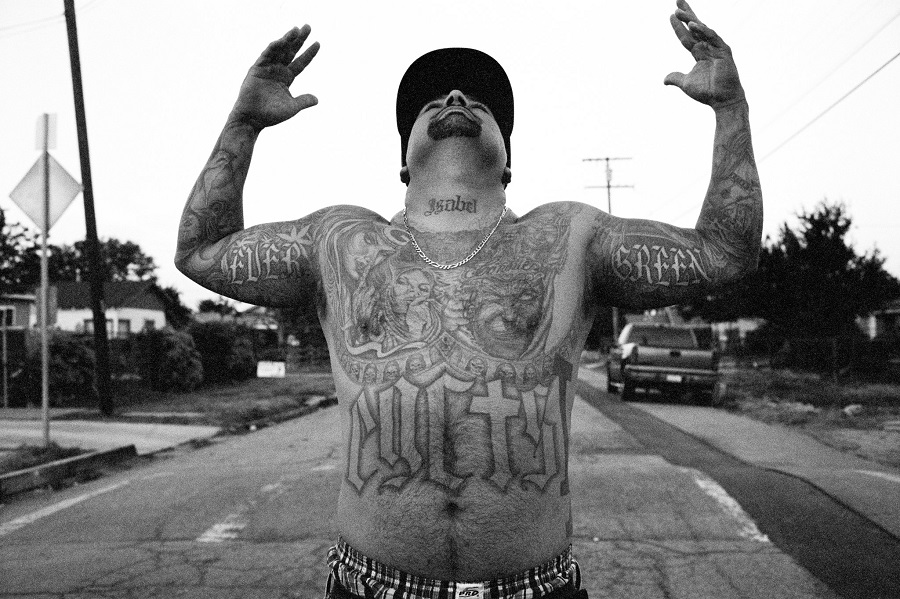 Joseph Rodríguez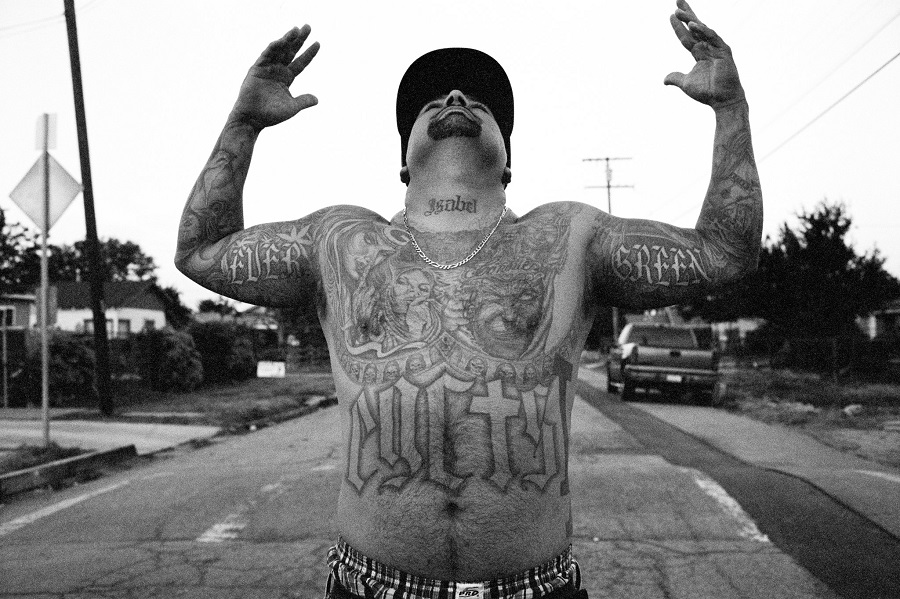 What happened to the "gangbanger," the figure who ruled hip-hop — and, seemingly, the streets of America's cities — from the late 1980s to the end of the millennium? Americans projected their racial and social anxieties onto this figure, inflating him into a "superpredator," fuel for the tough-on-crime policies of the '90s. By the turn of the century, though, the gangbanger's power waned in our imaginations, drained by the exploitation of the entertainment industry and by the fact that so many actual gang members had been swept into prison.
No place seemed to epitomize the "gangsta" lifestyle more than Los Angeles, with television and movie portrayals of mostly black and Hispanic gang members transforming Southern California's laid-back image into one of racialized terror.
There was a reality behind the representation, of course — desperate young people who sometimes caused great harm to others and to themselves, and who might have been only dimly aware of the larger forces pushing them: deindustrialization and globalization disrupting blue-collar paths toward the middle class; the interwoven interests and cynicism of the war on drugs that set many young minority men up to fail; the racial tensions between the police and urban residents.
The photographer Joseph Rodriguez arrived in Los Angeles immediately after the 1992 riots that erupted when four white police officers were acquitted of violating Rodney King's civil rights. Mr. Rodriguez documented the lives of gang members, starting in South Central Los Angeles and eventually arriving in Boyle Heights, a majority Mexican-American district on the East Side, which was in what the Rev. Greg Boyle, a Jesuit priest and the founder of the gang intervention organization Homeboy Industries, called the "decade of death."
Mr. Rodriguez spent several years on the project, mostly in a neighborhood in the heart of Boyle Heights called Evergreen. The portraits of gang members that emerged were the opposite of the monstrous images in the news media. Yes, there were guns and tattoos, but there was also family, in spite of — sometimes amid — the violence. The photographs captured relationships between mothers and fathers and children and siblings and extended relations.
In 2012, when Mr. Rodriguez returned to Evergreen to see what had become of his former subjects, gang members were largely absent from the streets. This was partly an effect of a policing strategy in which district attorneys obtained court-ordered injunctions prohibiting gang members from appearing in public together. Some "veteranos" were still languishing in prison. Others had died, victims of violence or drugs.
Not everyone had disappeared, though. Steve Blount, an original member of the Evergreen gang and one of the few African-Americans in Latino gangs, was still around. In Mr. Rodriguez's early photographs, Mr. Blount appears as a wounded warrior, addicted to heroin and enduring one loss after another — the deepest when his son Steve Jr. was killed in a gang-related homicide in 1998. The father had barely gotten clean when he buried the son.
"I cried every day and every night," Mr. Blount said. "I woke up every morning crying, asking God when it was going to stop." Later, he buried his wife, Chris, a fellow addict who died of liver disease. With the pain came the realization that his life was also on the line. "I could have been dead — through gang violence, overdose," he said. "The fact that I'm still here, I know he has a plan for me."
When I met him last summer, Mr. Blount was living in comfortable retirement in a high-rise building on Bunker Hill, in downtown Los Angeles. From his apartment on the 29th floor, he had a panoramic view of the city, including the rapidly crowding skyline of downtown and the gentle rise of land east of the Los Angeles River — Boyle Heights. He still crossed the bridge to the old neighborhood several times a week to check in on family (he has seven grandchildren and one great-grandchild). But even if he wasn't at risk of repeating his own history, he still felt as if he was shuttling between worlds. "For me to come over the bridge is like a double life," he said.
Then there are the survivors who seem much closer to the edge, like Mark Olvera, who was barely a teenager in 1992. When I met Mr. Olvera at his wife's family's house, he was dressed very much in '90s "homeboy" gear — backward baseball cap, gold chain, T-shirt and shorts, and with plenty of visible tattoos, including a prominent "EG" (for Evergreen) on his temple. He'd been in and out of jail since he was 14. Now at 36, he'd been out of prison for about five years.
Hailing from a family that had lived in Evergreen for three generations, he took pride in his life with Veronica, his five children, and his steady work as a union painter. "I respect life, I let the living live," he said. But he also seemed to describe a double life: "Just don't crack my eggshell. I speak as a father from the lifestyle."
Most of the talk about and in Boyle Heights these days has nothing to do with gang members, gang victims or survivors. For several years the galvanizing issue has been gentrification. After the opening of Metro train stops in 2009, wine bars and art galleries predictably began to appear, and the booming Arts District downtown seemed poised to hop eastward over the Los Angeles River. Some of the new businesses were owned by Mexican-Americans; many were not.
At the same time, Boyle Heights in 2016 experienced a significant spike in gang-related violence — as well as officer-involved shootings — after years of historic lows. "Is it a response to the instability?" asked Abel Salas, the editor and publisher of the community newspaper Brooklyn and Boyle. "Maybe the homies don't realize their days are numbered. Like an endangered species, when your back's against the wall, you turn kind of rabid."
Demonstrations and community meetings about gentrification are a neighborhood fixture these days. The topic of gang-related violence rarely surfaces. This collection of photographs reveals what has been erased, placing the men back in the landscape of a neighborhood undergoing tumultuous change — and one where their memories run deep.
Joseph Rodríguez, a photojournalist, is a professor at New York University and the International Center of Photography.
Rubén Martínez is a professor of English and Chicana/o Latina/o Studies  at Loyola Marymount University and the author, most recently, of "Desert America: A Journey Across Our Most Divided Landscape."
Artist Bios
Joseph Rodriguez was born and raised in Brooklyn, New York. He began studying photography at the School of Visual Arts and went on to receive an AAS from New York City Technical College. He worked in the graphic arts industry before deciding to pursue photography further. In 1985, he graduated with a degree in photojournalism and documentary from the International Center of Photography in New York. He went on to work for Black Star photo agency, and print and online news organizations like National Geographic, the New York Times Magazine, Mother Jones, Newsweek, New York Magazine, Esquire, Stern, BBC News and New America Media, as well as advertising campaigns for Levi's, AIG, and Ikea.

He has received awards and grants from the New York Foundation for the Arts Artist Fellowship, USC Annenberg Institute for Justice and Journalism, the Open Society Institute Justice Media Fellowship and Katrina Media Fellowship, National Endowment for the Arts, the Rockefeller Foundation, Mother Jones International Fund for Documentary Photography, the Alicia Patterson Fellowship Fund for Investigative Journalism and the Konstnarsnamden Stipendium. He has been awarded Pictures of the Year by the National Press Photographers Association and the University of Missouri in 1990, 1992, 1996, and 2002. He is the author of Spanish Harlem, part of the American Scene series, by the National Museum of American Art/D.A.P., as well as "East Side Stories: Gang Life in East Los Angeles," "Juvenile," "Flesh Life: Sex in Mexico City," "Still Here: Stories After Katrina," and "Spanish Harlem: El Barrio in the '80s" (Powerhouse Books).

Recent exhibitions include Aperture Gallery, Galerie Bene Taschen in Cologne, Germany, Reva and David Logan Gallery for Documentary Photography at the Graduate School of Journalism in Berkeley, California, the Bronx Documentary Center in New York, NY, Gulf & Western Gallery in New York, NY, Hardhitta Gallery in Cologne, Germany, Irene Carlson Gallery of Photography at the University of La Verne, California, Third Floor Gallery in Cardiff, Wales, U.K., Institute for Public Knowledge in New York, NY, Moving Walls at the Open Society Institute in New York, NY, and Cultural Memory Matters at 601 Art Space in New York, NY.

He has been a visiting artist at Stanford University, the Institute for Diversity in the Arts, California, the University of La Verne, California, Columbia University's School of Journalism, New York, the University of Texas, Austin's School of Journalism, Ringling School of Art and Design, Florida, the University of Helsinki, Finland, Aarhus University, Denmark, Royal University of Fine Arts' School of Architecture, Sweden, Loyola Marymount University, California, Hostos Community College, New York, and the CUNY Graduate School of Journalism, New York. He has taught at New York University Tisch School of the Arts and the International Center of Photography.
Organizations
Founded in 2011 in Brooklyn, NY, Photoville was built on the principles of addressing cultural equity and inclusion, which we are always striving for, by ensuring that the artists we exhibit are diverse in gender, class, and race.

In pursuit of its mission, Photoville produces an annual, city-wide open air photography festival in New York City, a wide range of free educational community initiatives, and a nationwide program of public art exhibitions.

By activating public spaces, amplifying visual storytellers, and creating unique and highly innovative exhibition and programming environments, we join the cause of nurturing a new lens of representation.

Through creative partnerships with festivals, city agencies, and other nonprofit organizations, Photoville offers visual storytellers, educators, and students financial support, mentorship, and promotional & production resources, on a range of exhibition opportunities.

For more information about Photoville visit, www.photoville.com
1992-2017-East Side Stories
Featuring: Joseph Rodriguez
Locations
View Location Details
Annenberg Space for Photography
Century Park,
2000 Avenue of the Stars Los Angeles,
CA 90067
Location open 24 hours
Related Events
East Side Stories: Journey towards Justice, Past and Present
Join Joseph Rodríguez, Ruben Martinez, Dr. Jesse De La Cruz, and Rubén Martínez for a powerful educational discussion on gang violence, juvenile justice and re-entry into Los Angeles communities.
Learn More