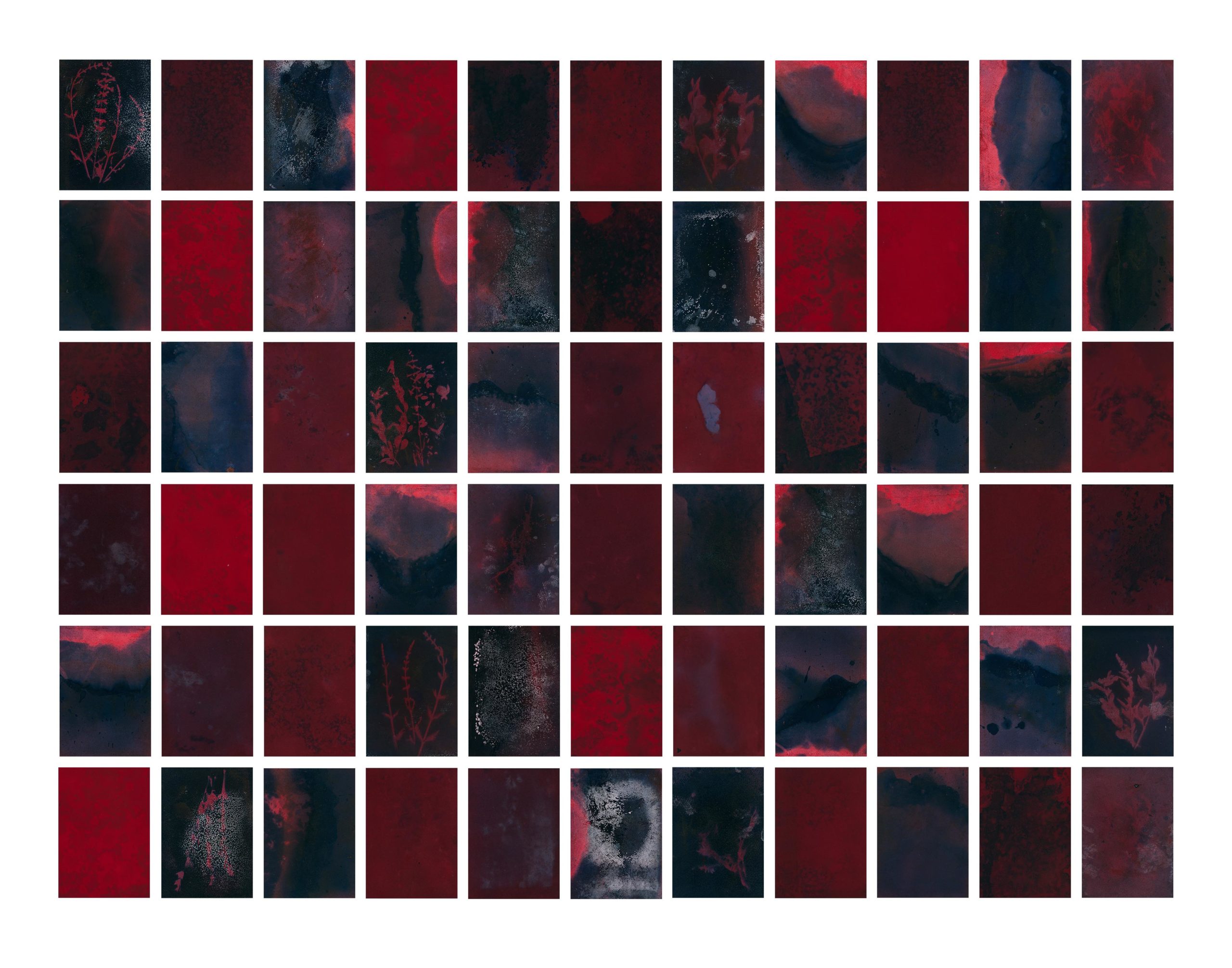 Dakota Mace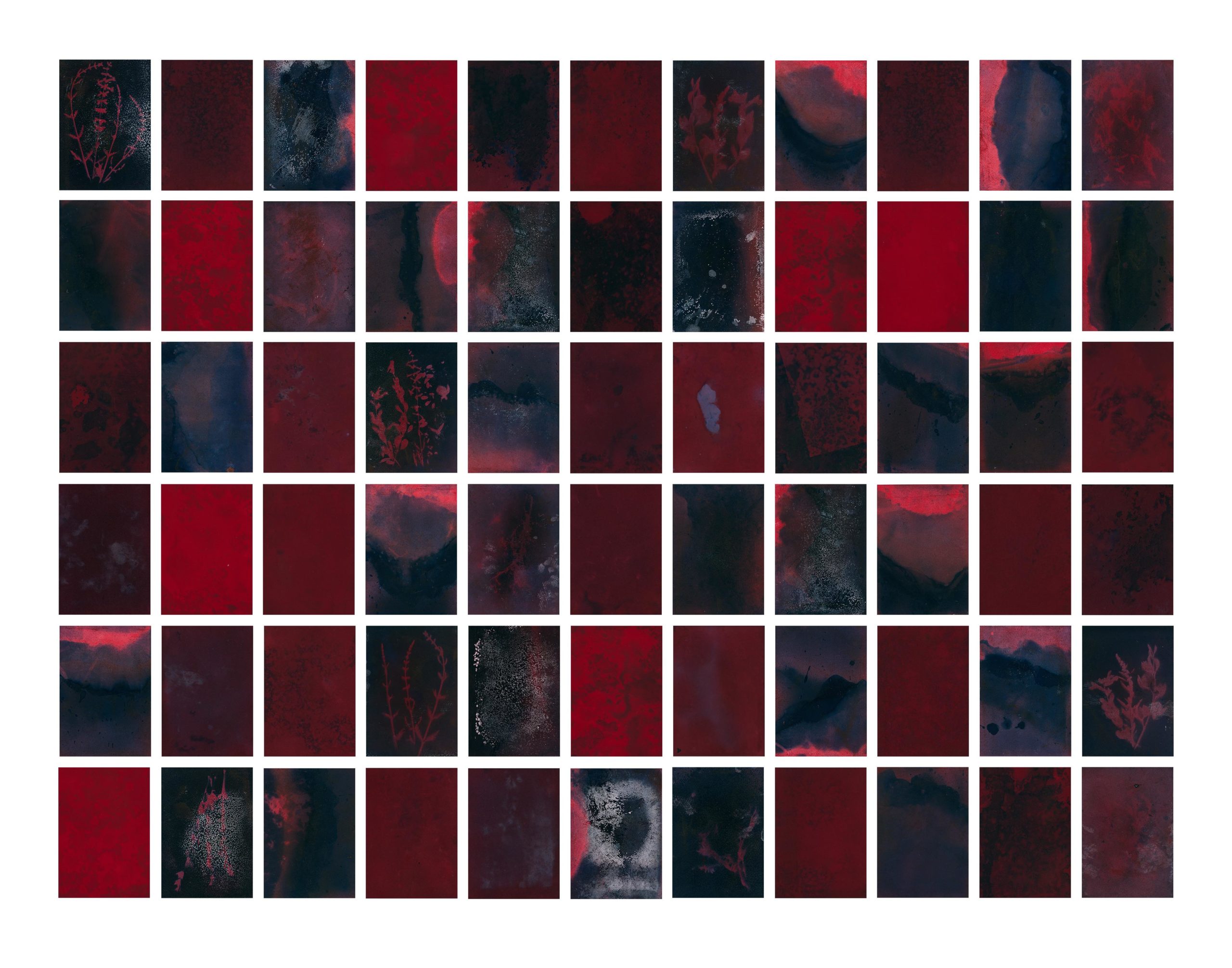 Indigenous artists Dakota Mace and Tahila Mintz work with natural elements to create work that reflects potent relationships to the land. Engaging alternative photographic processes — cyanotypes and photograms — Mace and Mintz visit places sacred to them. Using the soil, plants, water, and sun directly in the image-making process, they tell stories about the past, present, and future of the land — stories that connect them to their ancestors, and to themselves.
Dahodiyinii (Sacred Places) by Mace honors the importance of land and natural materials. It is believed that to understand the Diné (Navajo), you must place yourself into the world of Diné tradition. Art is essential to our beliefs and is a lifeline to our culture, land, and histories that are a part of our identity.
"To walk alone into the forest," says Mintz, "is the first step to hear the speaking. The next step is to hear your presence in the forest, the breaking of sticks beneath your feet. Then you hear your breath in this airspace — that it is different than outside the woods. As your mind is relaxed, your eyes open wider, and you will see how very much alive the beings that surround you are."
Artist Bios
Dakota Mace (Diné) is an interdisciplinary artist whose work focuses on translating the language of Diné history and beliefs. Mace received her M.A. and MFA degrees in Photography and Textile Design at the University of Wisconsin-Madison and her BFA in Photography from the Institute of American Indian Arts. As a Diné (Navajo) artist, her work draws from the history of her Diné heritage, exploring the themes of family lineage, community, and identity. In addition, her work pushes the viewer's understanding of Diné culture through alternative photography techniques, weaving, beadwork, and papermaking.

She has also worked with numerous institutions and programs to develop dialogue on the issues of cultural appropriation and the importance of Indigenous design work. She is currently a grad advisor in painting and drawing at the School of the Art Institute of Chicago and the photographer for the Helen Louise Allen Textile Center and the Center of Design and Material Culture.

Her work as an artist and scholar has been exhibited nationally and internationally at various conferences, collectives, museums, and galleries, including: the Textile Society of America, Weave a Real Peace, Indigenous Photograph, The 400 Year Project, the Wright Art Museum, Contemporary Arts Center, the Kemper Museum of Art, and the Wallach Art Gallery.

Tahila Mintz works across multiple platforms to amplify the voices of Indigenous people and the natural world. She is an Indigenous Yoeme and Jewish woman who focuses on ancestral relationships, gender equilibrium, contemporary Indigenous issues, and recuperating knowledge that has been unraveled by colonialism. She is a Water Protector and a Land Guardian whose home is in her Yoeme community in Sonora and in the Haudenosaunee territory of upstate, New York. She has been photographing for more than 20 years, in over 40 countries, and received her MFA from the University of Texas. She is a photographer, film maker, virtual reality technologist, performance artist and the founding executive director of OJI:SDA' Sustainable Indigenous Futures. Her organization creates an ancestral knowledge land-based curriculum for K-12 students, runs a summer camp for Indigenous youth, provides disaster relief, as well as other models of community support.
Organizations
The 400 Years Project is a photography collective looking at the evolution of Native American identity, rights, and representation. We provide opportunities to Native storytellers across the Americas and are creating a groundbreaking pictorial collection of Native America. The 400 Years Project commissions original photo stories and texts, licenses established work, produces special projects, and maintains a digital Library of Native American Photographers from the mid-1800s to the present. Using the Mayflower's 400-year anniversary as a jumping off point, we provide a narrative of Native empowerment while recognizing the devastating effects of colonization.

Founded in 2011 in Brooklyn, NY, Photoville was built on the principles of addressing cultural equity and inclusion, which we are always striving for, by ensuring that the artists we exhibit are diverse in gender, class, and race.

In pursuit of its mission, Photoville produces an annual, city-wide open air photography festival in New York City, a wide range of free educational community initiatives, and a nationwide program of public art exhibitions.

By activating public spaces, amplifying visual storytellers, and creating unique and highly innovative exhibition and programming environments, we join the cause of nurturing a new lens of representation.

Through creative partnerships with festivals, city agencies, and other nonprofit organizations, Photoville offers visual storytellers, educators, and students financial support, mentorship, and promotional & production resources, on a range of exhibition opportunities.

For more information about Photoville visit, www.photoville.com